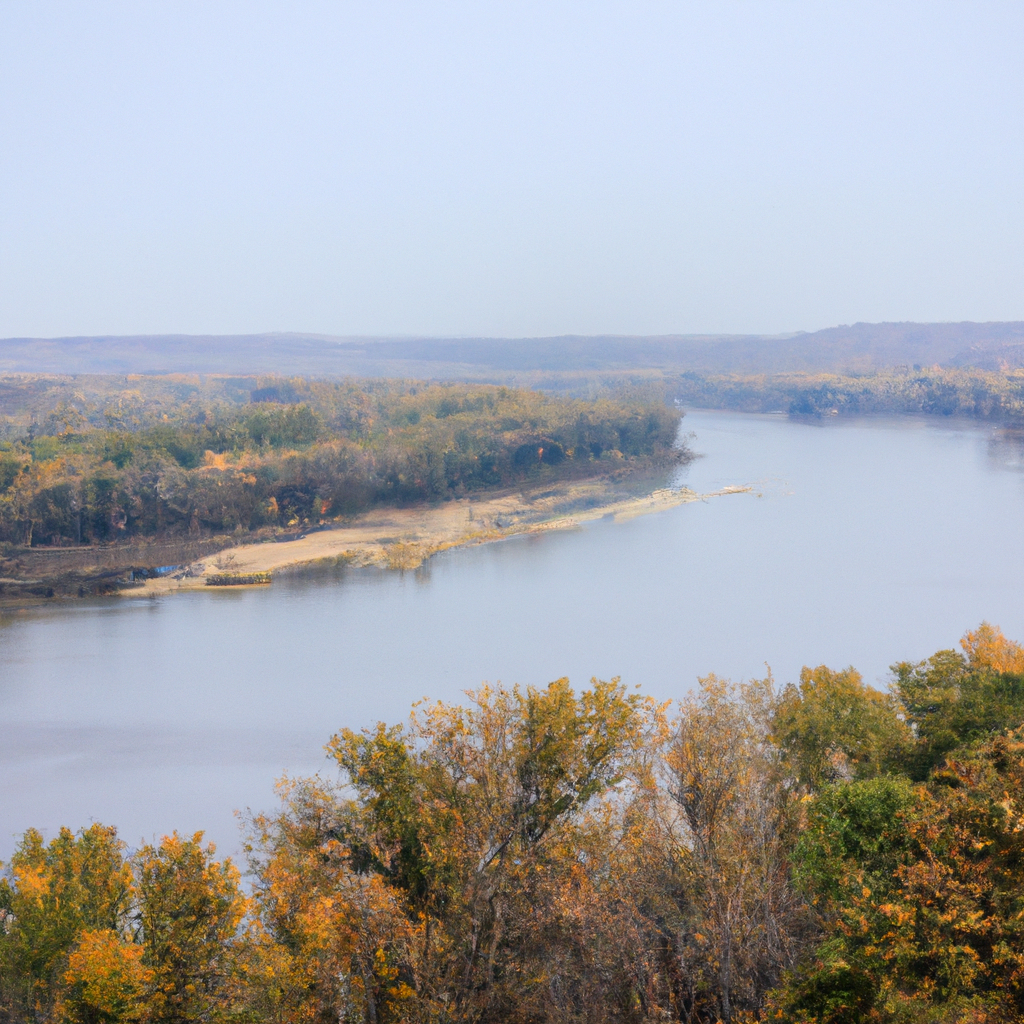 Fall, between September and November, is the best time to visit Mississippi. Temperatures of 50°F to 80°F make it a great time for outdoor activities. The Mississippi State Fair is an annual attraction, drawing visitors from all over.
Spring, from March to May, is also a great time to visit. The temperatures range from 60°F to 80°F, with beautiful blooming trees.
Pro Tip: Avoid summer, when temperatures reach 90°F and the humidity is high. Outdoor activities can be challenging.
When to Visit Mississippi
Mississippi is a great spot, located in the southern U.S., for both locals and tourists. It has long beaches and picturesque towns, making it a perfect spot to visit all year around. But, when is the best time to go? This depends on what kind of trip you want. Let's explore when is the best time to visit Mississippi, taking into account a few factors.
Travel during the Spring Season
Spring is the ideal season to explore Mississippi! Its landscapes bloom with color, the weather's pleasant, and there's plenty of outdoor fun. March to May is when you should go, as the humidity's low. Enjoy lush green forests, colorful gardens, and popular sites like the Delta Blues Museum, Natchez Trace Parkway, and Vicksburg National Military Park.
Outdoor activities like hiking, kayaking, and cycling can be done without the summer heat. But, be aware that hotel rates and airfare prices rise at the end of spring.
Pro tip: If you go in spring, remember to bring a light jacket or sweater – the nights can get chilly!
Visit Mississippi in the Fall
Mississippi is a great place to visit in the fall! The weather is mild and there are so many fun outdoor activities. From late September to early November, the temperature is perfect for outdoor adventures. Here are some of the top activities to do in Mississippi during autumn:
Take a drive along the Natchez Trace Parkway for stunning views
Go to the Mississippi State Fair for a fun day out
Try a hot air balloon ride above the Mississippi Delta
Explore the Vicksburg National Military Park
Visit the Gulf Coast for fishing, boating, and seafood
Overall, Mississippi in the fall is a great experience for tourists. Its natural beauty will take your breath away!
Summer Season in Mississippi
June to September is summer season in Mississippi. It's hot and humid. Temperatures can be too much, but there's still fun to be had outside! Fishing, hiking, and visiting the coastal beaches are all great options!
If you'd rather avoid the heat, go in spring or autumn. But if summer's your plan, bring lots of water, sunscreen, and light clothing!
Bonus: Visit Mississippi in the summer and don't miss the Natchez Balloon Festival. October brings hot air balloon rides, music, and food! Enjoy!
Weather in Mississippi
Mississippi is a super spot to explore! There are many natural sights, historical monuments, and cultural attractions. It's important to know the weather in Mississippi to plan your trip. Let's check out the typical temperatures and climate for the perfect visit.
Average Temperatures by Season
Mississippi has a humid, subtropical climate. Hot summers and mild winters make it an ideal place to visit. Here are the average temperatures by season:
Spring: 50-80°F (10-27°C). Comfortable temperatures and low humidity.
Summer: 70-90°F (21-32°C). High levels of humidity. Be prepared for hot weather.
Fall: 50-80°F (10-27°C). Reduced humidity makes it pleasant.
Winter: 30-60°F (-1-15°C). Mild winters but occasional snowfall in the north.
Best times to visit: Spring and Fall.
What to Wear During Your Visit
Mississippi has different weather all year, so you'll need the right clothes for your trip.
Autumn (September-November) is mild and the trees are colorful – wear long-sleeve shirts, light jackets, and vests.
Winter (December-February) can be chilly and wet. Pack thick jackets, sweaters, boots, hats, and gloves to stay warm and dry.
Spring (March-May) is mild, but bring a raincoat or umbrella in case of showers. Wear light layers like t-shirts, jackets, and jeans.
Summer (June-August) is hot and humid. Wear breathable fabrics like cotton and linen, plus shorts, t-shirts, and sandals.
Tip: Check the forecast to prepare for any unexpected weather and avoid overpacking.
Severe Weather Challenges
Mississippi has severe weather conditions, so it's important to know the best time to visit.
Humidity and temperatures are high from May to September, and hurricane season is June to November. If you visit during this time, watch the weather and have a plan.
The coolest months are October to April. Humidity is low and nights are nippy. Perfect for outdoor activities.
Flash floods can happen due to heavy rainfall. Check the forecast before visiting.
Pro tip: Pack clothes suitable for humid and wet weather when visiting Mississippi.
Activities and Events
Mississippi has tons of fun! If you want to explore the region's history, take a break, or have an unforgettable experience, there's something in store for you. The Mississippi State Fair, music festivals, and outdoor activities are just some of the exciting activities you can do all year round. Keep reading to discover more about what you can do in Mississippi!
Outdoor Activities by Season
Mississippi is brimming with outdoor activities to do throughout the year. Here's our list of the best activities to enjoy in Mississippi by season.
Spring: Enjoy blooming azaleas and the Renaissance Festival in April. Go hiking along the Natchez Trace Parkway or spend a day at the Jackson Zoo.
Summer: Hot and humid Mississippi summers are perfect for heading to the Gulf Coast. Swim, go deep-sea fishing, or visit the Geyser Falls waterpark.
Fall: Mild temperatures make it great for camping, hiking, and fishing at State and National Parks. Plus, don't miss the Mississippi State Fair in Jackson.
Winter: Explore the Mississippi Delta on a bike ride, attend Christmas in the Pass, or birdwatch at the Gulf Islands National Seashore.
Whatever your interest, Mississippi has something for you. Get your gear on and explore!
Festivals and Events by Season
Mississippi's bursting with year-round activities and events. Here are some of the top fests and occasions by season:
Spring:
Natchez Spring Pilgrimage – Tour the antebellum homes and gardens of Natchez.
Double Decker Arts Festival – Live music, food, and art vendors highlight this vibrant street fest.
Summer:
Mississippi Book Festival – Celebrate literature with authors, book signings, and panel discussions.
Jackson Rhythm and Blues Fest – Multiple days of blues, jazz, and soul music.
Fall:
Mississippi State Fair – Rides, games, and fair food galore.
Delta Hot Tamale Festival – Tamales and Delta cuisine plus live music and cooking demos.
Winter:
Vicksburg's Old Fashioned Christmas – Parade, caroling, and holiday cheer.
Mississippi Delta Blues and Heritage Festival – Local and international acts celebrate blues music.
No matter your interest, Mississippi's got an event to suit you!
Best Times for Sightseeing and Historical Tours
Plan your sightseeing and historical tour of Mississippi during spring or fall.
Fall (September – November) is the ideal season to experience Mississippi's rustic charm. The temperatures are comfortable, and the scenery is breathtaking! You'll also witness the annual Harvest festival in many towns and cities.
Come Spring (March – May) to witness blooming beauty and milder weather. During this time, you can explore the many historical sites and small towns.
Avoid visiting in summer (June – August). It can get too hot and humid!
For the best experience, plan a trip to Mississippi during spring or fall!
Peak vs Off-Peak Season
Visiting Mississippi in peak season has perks. You'll get nice weather and more attractions. But, there are downsides. This article discusses the pros and cons of peak vs off-peak season. So you can make a wise decision.
Travel Costs During Peak Season
Travel costs during peak season are much higher than off-peak season. Peak season in Mississippi is March to May and September to November. To save money, consider traveling during off-peak.
Book flights and accommodation early.
Use travel reward credit cards to get points and miles.
Choose budget-friendly activities like state parks or outdoor concerts.
Stay in vacation rental homes instead of hotels.
Then you can have a great trip to Mississippi, peak or off-peak.
Best Time to Save Money on Travel
The perfect time to save money on travel? Off-peak season! During peak season, airfares, hotels and other travel costs are higher. But off-peak season? Fewer people travelling means travel costs are cheaper.
Mississippi's off-peak season is mid-January to early April and mid-October to early December. You can get hotel deals, reduced airfares and avoid crowds then. Plus, the weather is great, so it's ideal for outdoor adventures with family and friends.
Pro Tip: Book travel and accommodation in advance. Prices go up as you get closer to your travel dates.
Benefits of Traveling during the Off-Peak Season
Traveling in off-peak season has its own advantages! Benefits include:
Affordability: Flights, hotels, and attractions cost less due to reduced demand.
Fewer Crowds: Enjoy your destination without stress of large groups.
Authentic Experiences: Get a true taste of the local culture.
Flexibility: More availability for attractions and accommodations.
Best time to visit Mississippi? Off-peak season – from November to April. Enjoy the state's history, scenery, and food with fewer crowds and cooler temps. Plus, lower prices!
Conclusion and Recommendations for Travel Planning
Summing up, the most ideal time to visit Mississippi is in the spring or fall. The weather is moderate, the scenery is vibrant, and there are fewer people. During these seasons, you can partake in multiple outdoor activities and festivals and not battle extreme heat or cold.
Here are some tips to take into consideration when organizing your Mississippi trip:
Look at the weather forecast and pack suitably.
Organize your itinerary based on the local events and festivals.
Get your transportation and lodgings in advance, to keep away from last-minute trouble and costly prices.
Look into Mississippi's distinctive cuisine, art, and history, from the Delta's BBQ and blues to Civil War battlegrounds and old-style homes.
By following these tips and preparing, you can make the best of your Mississippi trip and build lasting memories. Pro Tip: Remember to bring insect repellent and sunscreen for your outdoor adventures!
Frequently Asked Questions
What is the best time to visit Mississippi?
The best time to visit Mississippi is during the fall months, from September to November, as the weather is pleasant and there are many festivals and events taking place.
What is the weather like in Mississippi during the summer months?
During the summer months, from June to August, Mississippi can be hot and humid, with temperatures ranging from the mid-80s to the mid-90s Fahrenheit.
When is the hurricane season in Mississippi?
The hurricane season in Mississippi runs from June to November, with the peak activity occurring in September and October.
Is there a high season for tourism in Mississippi?
The high season for tourism in Mississippi is during the summer months, from June to August, and during the fall months, from September to November, due to the many festivals and events that take place during these times.
What are some of the top attractions to visit in Mississippi?
Some of the top attractions to visit in Mississippi include the Vicksburg National Military Park, Elvis Presley Birthplace and Museum, Natchez Trace Parkway, and Biloxi Beach.
What is the best way to get around Mississippi?
The best way to get around Mississippi is by car, as public transportation is limited. You can also explore the state by taking a guided tour or renting a bike.